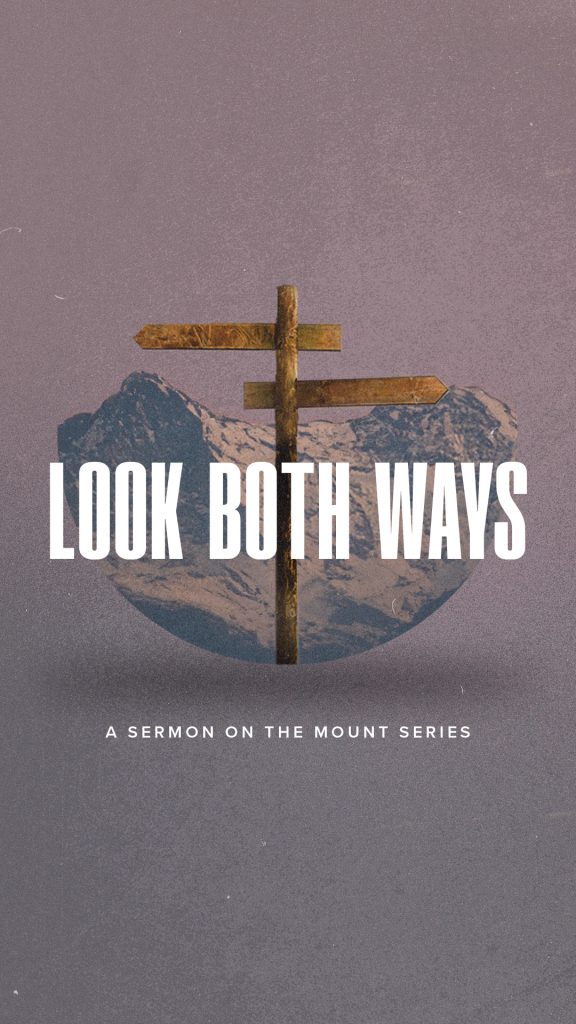 What's Heaven Like?
by Johnson Bowie
God created heaven for His children, a radiant paradise where we'll live in the joy of our Father forever—and Jesus is the only way to that eternal reality. When we choose to accept His gift of salvation, we get to wait with hopeful expectation for our true home! But what can we really expect when we get there? What is it truly like? Tune in to our series, Look Both Ways, as we uncover the answers through God's word.
Sermon Notes
Matthew 7:13-14 NLT
"You can enter God's Kingdom only through the narrow gate. The highway to hell is broad, and its gate is wide for the many who choose that way.But the gateway to life is very narrow and the road is difficult, and only a few ever find it."
Ecclesiastes 3:11 NLT
"He has planted eternity in the human heart…"
John 14:2 NIV
"My Father's house has many rooms; if that were not so, would I have told you that I am going there to prepare a place for you?"
Jesus did not prepare HELL for you, but He did prepare HEAVEN for you!
What is Heaven Like?
Pop Culture
Muslims
Mormons
Buddhists
Hindus
Bible
Hebrews 11:10 NLT
"Abraham was confidently looking forward to a city with eternal foundations, a city designed and built by God."
1 Corinthians 2:9 NLT
"That is what the Scriptures mean when they say, "No eye has seen, no ear has heard, and no mind has imagined what God has prepared for those who love him."
1 Corinthians 13:12 NLT
"Now we see things imperfectly, like puzzling reflections in a mirror, but THEN we will see everything with perfect clarity. All that I know now is partial and incomplete, but THEN I will know everything completely, just as God now knows me completely."
Observation #1: In Heaven it will all make sense.
Philippians 3:20-21 NLT
"But we are citizens of heaven, where the Lord Jesus Christ lives. And we are eagerly waiting for him to return as our Savior. He will take our weak mortal bodies and change them into glorious bodies like his own, using the same power with which he will bring everything under his control."
Observation #1: In Heaven it will all make sense.
Observation #2: In Heaven you will get a GLORIOUS BODY!
2 Corinthians 12:2-4 NLT
"I was caught up to the third heaven fourteen years ago. Whether I was in my body or out of my body, I don't know—only God knows. Yes, only God knows whether I was in my body or outside my body. But I do know that I was caught up to paradise and heard things so astounding that they cannot be expressed in words, things no human is allowed to tell."
Observation #1: In Heaven it will all make sense.
Observation #2: In Heaven you will get a GLORIOUS BODY!
Observation 3: In Heaven you will hear and experience things too great for words.
Revelation 21:1 NIV
"Then I saw "a new heaven and a new earth," for the first heaven and the first earth had passed away, and there was no longer any sea."
Revelation 21:2 NIV
"I saw the Holy City, the new Jerusalem, coming down out of heaven from God, prepared as a bride beautifully dressed for her husband."
Revelation 21:3-4 NIV
"And I heard a loud voice from the throne saying, "Look! God's dwelling place is now among the people, and he will dwell with them. They will be his people, and God himself will be with them and be their God. He will wipe every tear from their eyes. There will be no more death or mourning or crying or pain, for the old order of things has passed away."
Revelation 21:22 NIV
"I did not see a temple in the city, because the Lord God Almighty and the Lamb are its temple."
Revelation 22:1-2 NIV
"Then the angel showed me the river of the water of life, as clear as crystal, flowing from the throne of God and of the Lambdown the middle of the great street of the city. On each side of the river stood the tree of life..."
Revelation 22:3-5 NIV
"No longer will there be any curse. The throne of God and of the Lamb will be in the city, and his servants will serve him. They will see his face, and his name will be on their foreheads. There will be no more night. They will not need the light of a lamp or the light of the sun, for the Lord God will give them light. And they will reign forever and ever."
"We have become 'bent' (sinful) versions of what God intended. Your deceitfulness, laziness, lust, deafness, disability and disease are not the real you. They are the temporary perversions that will be eliminated. They're the cancer that the great physician will surgically remove. His redemptive work is such that never again will they return. When you're on the new earth, for the first time you'll be the person God created you to be."
— C.S. Lewis
John 14:1-3 ESV
"Let not your hearts be troubled. Believe in God; believe also in me. In my Father's house are many rooms. If it were not so, I would have told you; for I go to prepare a place for you. And if I go and prepare a place for you, I will come again and will take you to myself, that where I am you may be also."
John 14:4-6 ESV
"You know the way to where I am going." Thomas said to him, "Lord, we do not know where you are going. How can we know the way?" Jesus said to him, "I AM THE WAY, and the truth, and the life. No one comes to the Father except through me."
Revelation 22:17 NIV
"The Spirit and the bride say, "Come!" And let the one who hears say, "Come." And let the one who is thirsty come…"