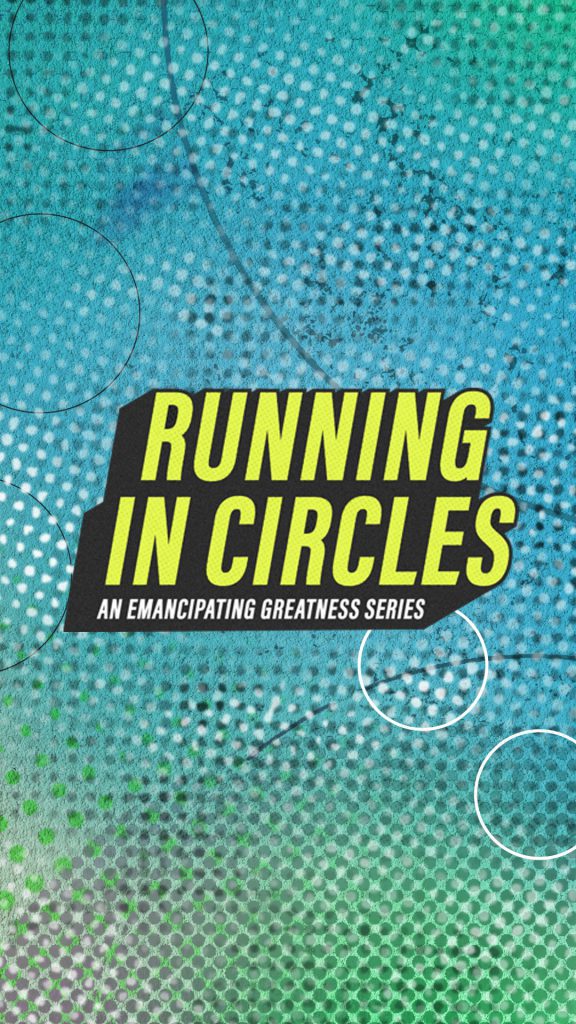 Walking in Freedom
by Johnson Bowie
Jesus came not only to set us free but to help us actually walk in freedom! But stepping into the next level of life with God requires loosening your grip on old ways of thinking and habits that are keeping you stuck. For every one of the enemy's lies you've believed, God has an incredible truth to replace it. And He never calls us to give up something unless He has something better. What do you need to let go of so that you can embrace the new He has for you?
Sermon Notes
Galatians 5:1 NIV
It is for freedom that Christ has set us free. Stand firm, then, and do not let yourselves be burdened again by a yoke of slavery.

Most Christians know what they want to be saved FROM, but they don't know what they want to be saved FOR.

To Walk in Freedom

We must embrace NEW TRUTH
Believers should worry less about the devil's reaching them than about his teaching them—with lies and false doctrine... When you learn to capture your thoughts, you'll learn to defeat your enemy.
— Dr. Ken Boa

For every one of the enemy's lies, God has a better truth!

1 John 3:1 NIV
See what great love the Father has lavished on us, that we should be called children of God!

Ephesians 1:4 NLT
Even before he made the world, God loved us and chose us in Christ to be holy and without fault in his eyes.

Ephesians 1:5 NLT
God decided in advance to adopt us into his own family by bringing us to himself through Jesus Christ. This is what he wanted to do, and it gave him great pleasure.

2 Corinthians 10:3-5 NIV
For though we live in the world, we do not wage war as the world does. The weapons we fight with are not the weapons of the world.On the contrary, they have divine power to demolish strongholds.We demolish arguments and every pretension that sets itself up against the knowledge of God, and we take captive every thought to make it obedient to Christ.

To Walk in Freedom
We must embrace NEW FILLING

We need to be emptied of SIN so we can be full of HIM!

Luke 11:24-26 NIV
"When an impure spirit comes out of a person, it goes through arid places seeking rest and does not find it. Then it says, 'I will return to the house I left.' When it arrives, it finds the house swept clean and put in order. Then it goes and takes seven other spirits more wicked than itself, and they go in and live there. And the final condition of that person is worse than the first."

To Walk in Freedom
We must embrace NEW POWER

2 Peter 1:3 NIV
His divine power has given us everything we need for a godly life through our knowledge of him who called us by his own glory and goodness.

1 Corinthians 10:13 NIV
No temptation has overtaken you except what is common to mankind. And God is faithful; he will not let you be tempted beyond what you can bear. But when you are tempted, he will also provide a way out so that you can endure it.

To Walk in Freedom
We must embrace NEW MISSION

Ephesians 4:21-29 NLT
Since you have heard about Jesus and have learned the truth that comes from him, throw off your old sinful nature and your former way of life, which is corrupted by lust and deception.Instead, let the Spirit renew your thoughts and attitudes. Put on your new nature, created to be like God—truly righteous and holy. So stop telling lies. Let us tell our neighbors the truth, for we are all parts of the same body. And "don't sin by letting anger control you." Don't let the sun go down while you are still angry, for anger gives a foothold to the devil.If you are a thief, quit stealing. Instead, use your hands for good hard work, and then give generously to others in need. Don't use foul or abusive language. Let everything you say be good and helpful, so that your words will be an encouragement to those who hear them.

You weren't just made to STOP sinning; you were made to START doing good!

Declarations:

I am a CHILD of GOD
Galatians 3:26 NLT
I am PART OF GOD'S FAMILY
Ephesians 1:5 NLT
I am AN HEIR OF THE KINGDOM
Romans 8:16-17 NKJV
I am DEAD TO SIN
Romans 6:11 NIV
I am SECURE
1 John 4:17-18 NKJV
I am CHOSEN
Ephesians 1:4 NLT
I am FEARFULLY AND WONDERFULLY MADE
Psalm 139:13-14 NIV
I am LOVED
1 John 3:1 NIV
I am WORTH DYING FOR
John 3:16 NIV
I am RESCUED FROM THE KINGDOM OF DARKNESS
Colossians 1:13-14 NLT
I am SET FREE FROM THE LAW OF SIN AND DEATH
Romans 8:1-2 NIV
I am FORGIVEN and CLEAN
1 John 1:9 NLT
I am RIGHTEOUS
2 Corinthians 5:21 NIV
I am CONFIDENT THAT GOD WILL PERFECT THE WORK HE HAS BEGUN IN ME
Philippians 1:6 NLT
I am a CITIZEN OF HEAVEN
Philippians 3:20 NLT
I am BLESSED IN THE HEAVENLY REALMS WITH EVERY SPIRITUAL BLESSING
Ephesians 1:3 NLT
I am SEATED WITH CHRIST IN HEAVENLY PLACES
Ephesians 2:6 NIV
I am JESUS' FRIEND
John 15:15
I am THE TEMPLE OF GOD
1 Corinthians 5:19 NIV
I am MORE THAN A CONQUEROR
Romans 8:37 NIV
I am an OVERCOMER
Revelation 12:11 NIV
I am VICTORIOUS
1 John 5:4 NLT
I am NOT CONTROLLED BY FEAR
2 Timothy 1:7 NIV
I am GOD'S HANDIWORK, CREATED TO DO GOOD WORKS
Ephesians 2:10 NIV
I am THE LIGHT OF THE WORLD
Matthew 5:14 NIV
I am a MINISTER OF RECONCILIATION
2 Corinthians 5:18 NIV
I am HEALED BY THE STRIPES OF JESUS
1 Peter 2:24 NKJV
I am NOT ALONE
Hebrew 13:5 NIV
I am COMPLETE
Colossians 2:10 NIV
I am a NEW CREATION
2 Corinthians 5:17 NLT