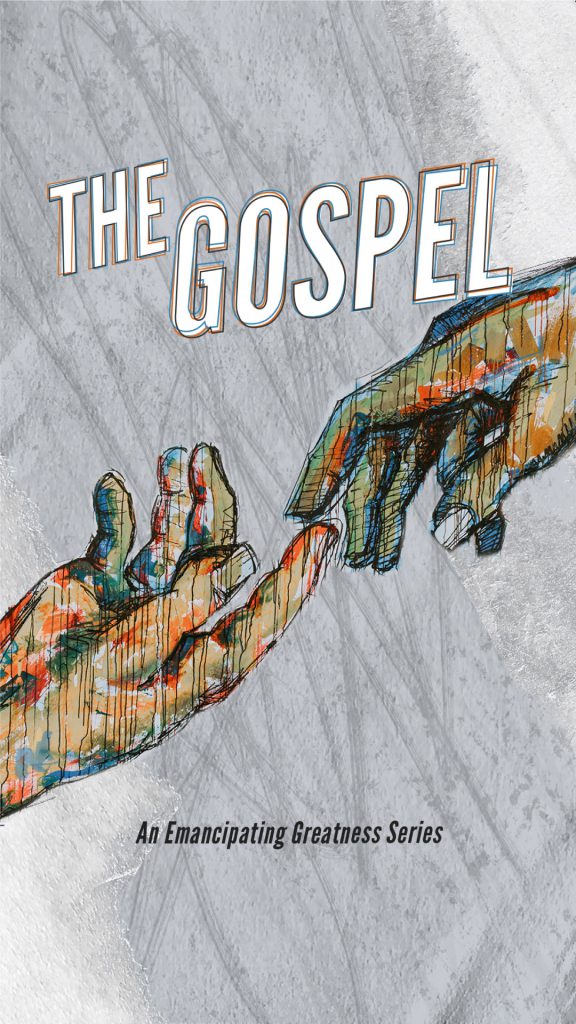 The Depth and Deliverance of the Gospel
by Johnson Bowie
The Gospel, the Good News about our God, is that He reigns over all things forever! Although we were once cut off from the Father, His love for us caused Him to send His Son to die as a sacrificial payment for our sin. Even more, Jesus died and rose again to restore our relationship with God. His death, burial, and resurrection changes everything about our past, present and our future. The depth of God's great story is that through Christ, we are free to live our lives from the beautiful truth that all has been made new.
Sermon Notes
Romans 1:16 NIV
For I am not ashamed of the GOSPEL, because it is the power of God that brings salvation to everyone who believes: first to the Jew, then to the Gentile.
Genesis 2:16-17 NIV
And the Lord God commanded the man, "You are free to eat from any tree in the garden; but you must not eat from the tree of the knowledge of good and evil, for when you eat from it you will certainly DIE."
Romans 6:23 NIV
For the wages of sin is DEATH…
Genesis 3:21 NIV
The Lord God made garments of skin for Adam and his wife and clothed them.
Hebrews 9:22 NIV
Without the shedding of blood there is no forgiveness.
Isaiah 64:6 NIV
All of us have become like one who is unclean, and all our righteous acts are like filthy rags; we all shrivel up like a leaf, and like the wind our sins sweep us away.
2 Peter 3:9 NIV
The Lord is not slow in keeping his promise, as some understand slowness. Instead he is patient with you, not wanting anyone to perish, but everyone to come to repentance.
Exodus 12:13 NIV
The blood will be a sign for you on the houses where you are, and when I see the blood, I will pass over you.
Galatians 4:4-5 NIV
But when the set time had fully come, God sent his Son, born of a woman, born under the law, to redeem those under the law, that we might receive adoption to sonship.
John 3:16-18 NIV
For God so loved the world that he gave his one and only Son, that whoever believes in him shall not perish but have eternal life. For God did not send his Son into the world to condemn the world, but to SAVE the world through him. Whoever believes in him is not condemned, but whoever does not believe stands condemned ALREADY because they have not believed in the name of God's one and only Son.
John 1:29 KJV
"Behold! The Lamb of God who TAKES AWAY the sin of the world!"
Isaiah 53:3-6 NIV
He was despised and rejected by mankind, a man of suffering, and familiar with pain. Like one from whom people hide their faces he was despised, and we held him in low esteem.Surely he took up OUR pain and bore OUR suffering, yet we considered him punished by God, stricken by him, and afflicted. But he was pierced for OUR transgressions, he was crushed for OUR iniquities; the punishment that brought US peace was on him, and by his wounds WE are healed. We all, like sheep, have gone astray, each of us has turned to our own way; and the Lord has laid on him the iniquity of us ALL.
Penal Substitutionary Atonement // Jesus was voluntarily punished in our place to satisfy the wrath of God against sin, so God can justly forgive sin, restoring relationship between God and mankind.
Colossians 2:13-15 NIV
When you were dead in your sins and in the uncircumcision of your flesh, God made you alive with Christ. He forgave us all our sins,having canceled the charge of our legal indebtedness, which stood against us and condemned us; he has taken it away, nailing it to the cross. And having disarmed the powers and authorities, he made a public spectacle of them, triumphing over them by the cross.
"Jesus is the 'First Fruits', the 'Pioneer of Life.' He has forced open a door that has been locked since the death of the first man. He has met, fought, and beaten the king of death. Everything is different because he has done so!" – C.S. Lewis
1 Corinthians 6:9-11 NIV
Do you not know that wrongdoers will not inherit the kingdom of God? Do not be deceived: Neither the sexually immoral nor idolaters nor adulterers nor men who have sex with men nor thieves nor the greedy nor drunkards nor slanderers nor swindlers will inherit the kingdom of God. And that is what some of you WERE. But you were washed, you were sanctified, you were justified in the name of the Lord Jesus Christ and by the Spirit of our God.
The Death, Burial & Resurrection of Jesus Christ:
Washes Us
Sanctifies Us
Justifies Us
Gives Us New Life
Reconciles Us
Adopts Us
Redeems Us
Protects Us
Fills Us with Peace
Gives Us Eternal Life
Romans 6:23 NIV
For the wages of sin is death, but the gift of God is eternal life in Christ Jesus our Lord.