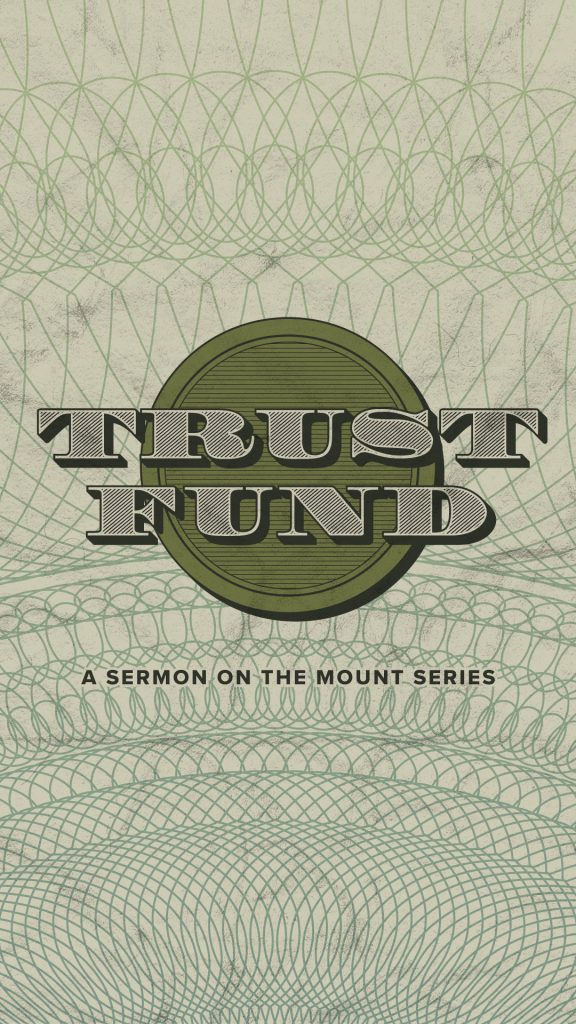 Breaking the Spirit of Mammon
by Dennis Rouse
When Jesus talked about money, He introduced a wildly controversial idea of having an eternal view of wealth and that money has the potential to have lasting, heavenly impact. That's still strange for many of us today because the world's view is to build and accumulate money and things that show our success—things that seemingly bring us comfort, security and even power. But God warns us that money and possessions can deceive us into living for the temporal and cause us to lose sight of what it means to live for the eternal. How we use money affects the very core of who we are becoming! Tune into the full message to hear more on God's heart for us when it comes to money.
Sermon Notes
MATTHEW 6:19-20 NKJV
"Do not lay up for yourselves treasures on earth, where moth and rust destroy and where thieves break in and steal; but lay up for yourselves treasures in heaven, where neither moth nor rust destroys and where thieves do not break in and steal."
Two views on money and possessions:
THE TEMPORAL VIEW: Views money and possessions in light of what we can do with it and enjoy with it while we live in this temporal world.
THE ETERNAL VIEW: Views money and possessions in light of what we can do with it that affects our lives and the lives of others in eternity.
LUKE 12:13-21 NKJV
"Then one from the crowd said to Him, 'Teacher, tell my brother to divide the inheritance with me.'  But He said to him, 'Man, who made Me a judge or an arbitrator over you?'  And He said to them, 'TAKE HEED AND BEWARE OF COVETOUSNESS, FOR ONE'S LIFE DOES NOT CONSIST IN THE ABUNDANCE OF THE THINGS HE POSSESSES.'
Then He spoke a parable to them saying, 'The ground of a certain rich man yielded plentifully. And he thought within himself, saying, 'What shall I do, since I have no room to store my crops?'
So, he said, 'I will do this: I will pull down my barns and build greater, and there I will store all my crops and my goods. And I will say to my soul, 'Soul, you have many goods laid up for many years; take your ease; eat, drink, and be merry.''
But God said to him, 'Fool!  This night your soul will be required of you; then whose will those things be which you have provided?'
SO IS HE WHO LAYS UP TREASURE FOR HIMSELF AND IS NOT RICH TOWARD GOD."
MATTHEW 6:21 NKJV
"For where your TREASURE IS, there your HEART WILL BE ALSO."
What we do with money, how we use it, affects the very core of who we are becoming.
MATTHEW 6:22-23 NKJ
"The lamp of the body is the eye. If therefore your eye is good, your whole body will be full of light. But if your eye is bad, your whole body will be full of darkness. If therefore the light that is in you is darkness, how great is that darkness!"
MATTHEW 6:24 NKJ
"No one can serve two masters; for either he will hate the one and love the other, or else he will be loyal to the one and despise the other.  YOU CANNOT SERVE GOD AND MAMMON."
Mammon: Comes from an Aramaic word that essentially means RICHES
REVELATION 18:2-4 NKJ
"And he cried mightily with a loud voice, saying, 'Babylon the great is fallen, is fallen, and has become a dwelling place of demons, a prison for every foul spirit, and a cage for every unclean and hated bird!  For all the nations have drunk of the wine of the wrath of her fornication, the kings of the earth have committed fornication with her, and the merchants of the earth have become rich through the abundance of her luxury.' And I heard another voice from heaven saying, "Come out of her, my people, lest you share in her sins, and lest you receive of her plagues.'"
REVELATION 18:23 NKJ
"The light of a lamp shall not shine in you anymore, and the voice of bridegroom and bride shall not be heard in you anymore. For your merchants were the great men of the earth, for by your sorcery all the nations were deceived."
The ANTI-CHRIST system will eventually rule over people in the world through the spirit of MAMMON.
HOW TO BREAK THE SPIRIT OF MAMMON
BEGIN TO VIEW YOUR LIFE IN THE LIGHT OF ETERNITY
JOHN 15:19 ESV
"If you were of the world, the world would love you as its own; but because you are not of the world, but I chose you out of the world, therefore the world hates you."
JOHN 18:36 ESV
"Jesus answered, 'My kingdom is not of this world. If my kingdom were of this world, my servants would have been fighting, that I might not be delivered over to the Jews. But my kingdom is not from the world."
1 JOHN 2:15 ESV
"Do not love the world or the things in the world. If anyone loves the world, the love of the Father is not in him."
JOHN 17:16 ESV
"They are not of the world, just as I am not of the world."
COLOSSIANS 3:2 ESV
"Set your minds on things that are above, not on things that are on earth."
HOW TO BREAK THE SPIRIT OF MAMMON
BEGIN TO VIEW YOUR LIFE IN THE LIGHT OF ETERNITY
MAXIMIZE THE USE OF MONEY FOR THE PURPOSES OF GOD
1 TIMOTHY 6:17-19 NLT
"Teach those who are rich in this world not to be proud and not to trust in their money, which is so unreliable. Their trust should be in God, who richly gives us all we need for our enjoyment. Tell them to use their money to do good. They should be rich in good works and generous to those in need, always being ready to share with others. By doing this they will be storing up their treasure as a good foundation for the future so that they may experience TRUE LIFE."
HOW TO BREAK THE SPIRIT OF MAMMON
BEGIN TO VIEW YOUR LIFE IN THE LIGHT OF ETERNITY
MAXIMIZE THE USE OF MONEY FOR THE PURPOSES OF GOD
FAITHFULNESS REGARDLESS OF THE AMOUNT
LUKE 16:10 NKJV
"He who is faithful in what is least is faithful also in much; and he who is unjust in what is least is unjust also in much."
MAMMON'S GOAL IS TO ENSLAVE US TO A LIFE OF DEBT AND MATERIALISM
MARK 4:19 NKJV
"…and the cares of this world, the deceitfulness of riches, and the desires for other things entering in choke the word, and it becomes unfruitful."
MALACHI 3:8-12 NKJV
'Will a man rob God? Yet you have robbed Me!'
But you say, 'In what way have we robbed You?'
In TITHES AND OFFERINGS. You are cursed with a curse. For you have robbed me, even this whole nation. BRING ALL THE TITHES INTO THE STOREHOUSE, that there may be food in My house, and try Me now in this,' says the LORD of Hosts, 'if I will not open for you the windows of heaven and pour out for you such blessing that there will not be room enough to receive it.
And I will rebuke the devourer for your sakes, so that he will not destroy the fruit of your ground, nor shall the vine fail to bear fruit for you in the field,' says the LORD of hosts.  'And all the nations will call you blessed, for you shall be a delightful land,' says the LORD of hosts."
MALACHI 3:16-18 NKJ
"Then those who feared the LORD spoke to one another, and the LORD listened and heard them; so a book of remembrance was written before Him for those who fear the LORD and who meditate on His name.
'They shall be Mine,' says the LORD of hosts, 'On the day that I make them My jewels. And I will spare them as a man spare his own son who serves him.'
THEN YOU SHALL AGAIN DISCERN BETWEEN THE RIGHTEOUS AND THE WICKED, BETWEEN ONE WHO SERVES GOD AND ONE WHO DOES NOT SERVE HIM."