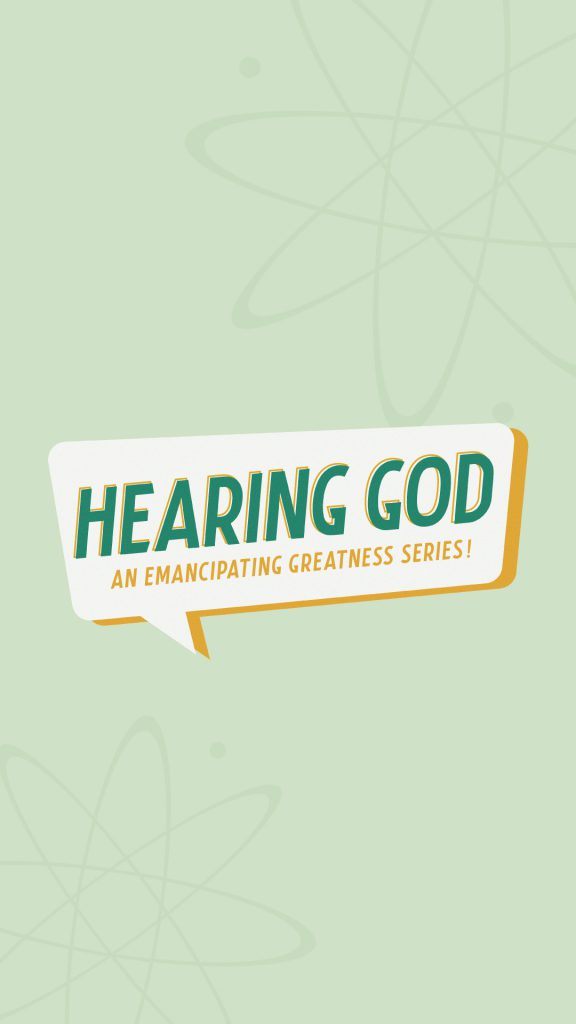 You Can Hear God Speak
by Johnson Bowie
It has never been more important to hear the voice of the Lord than it is in these current times. The problem is that many tend to think that God only speaks to pastors or the spiritually elite. The truth is: All of us were made to have relationship with Him. Yes, He is speaking to you, too! Together, let's learn how to recognize His voice and grow in our ability to hear Him clearly.
Sermon Notes
Hearing God: You Can Hear God Speak
Pastor Johnson Bowie
March 7, 2021
"The one who does not expect God to speak will discount every single time when God does speak." – A.W. Tozer
"There is not in the world a kind of life more sweet and delightful than that of a continual conversation with God. Those only can comprehend it who practice and experience it." – Brother Lawrence
God's voice isn't something to retreat from but something to run toward!
Hearing God
We were made to hear God's voice.
John 10:2-5, 27 NIV
The one who enters by the gate is the shepherd of the sheep. The gatekeeper opens the gate for him, and the sheep listen to his voice. He calls his own sheep by name and leads them out. When he has brought out all his own, he goes on ahead of them, and his sheep follow him because they know HIS VOICE. But they will never follow a STRANGER; in fact, they will run away from him because they do not recognize a stranger's voice… My sheep listen to my voice; I know them, and they follow me.
Matthew 7:24-25 NIV
Therefore everyone who hears these words of mine and puts them into practice is like a wise man who built his house on the rock. The rain came down, the streams rose, and the winds blew and beat against that house; yet it did not fall, because it had its foundation on the rock.
Ephesians 4:14 NIV
Then we will no longer be infants, tossed back and forth by the waves, and blown here and there by every wind of teaching and by the cunning and craftiness of people in their deceitful scheming.
If you aren't listening to GOD'S VOICE, you will listen to A VOICE.
Hebrews 4:16 NLT
So let us come boldly to the throne of our gracious God. There we will receive his mercy, and we will find grace to help us when we need it most.
Hearing God
We learn to hear God's voice.
Psalm 46:10 NIV
He says, "Be still, and know that I am God; I will be exalted among the nations, I will be exalted in the earth."
I have to REPOSITION so I can get better RECEPTION.
Hearing God
We hear God's voice in the Bible.
2 Timothy 3:16-17 NIV
All Scripture is God-breathed and is useful for teaching, rebuking, correcting and training in righteousness, so that the servant of God may be thoroughly equipped for every good work.
"The written Word is the wire along which the voice of God will certainly come to you if the heart is hushed and the attention fixed." – F.B. Meyer
Hebrews 4:12 NIV
For the word of God [logos] is alive and active. Sharper than any double-edged sword, it penetrates even to dividing soul and spirit, joints and marrow; it judges the thoughts and attitudes of the heart.
Too often we don't read the Bible to LISTEN to God; we read the Bible to LEARN information.
Colossians 1:9-14 NLT
We have not stopped praying for you since we first heard about you. We ask God to give you complete knowledge of his will and to give you spiritual wisdom and understanding. Then the way you live will always honor and please the Lord, and your lives will produce every kind of good fruit. All the while, you will grow as you learn to know God better and better. We also pray that you will be strengthened with all his glorious power so you will have all the endurance and patience you need. May you be filled with joy, always thanking the Father. He has enabled you to share in the inheritance that belongs to his people, who live in the light. For he has rescued us from the kingdom of darkness and transferred us into the Kingdom of his dear Son, who purchased our freedom and forgave our sins.