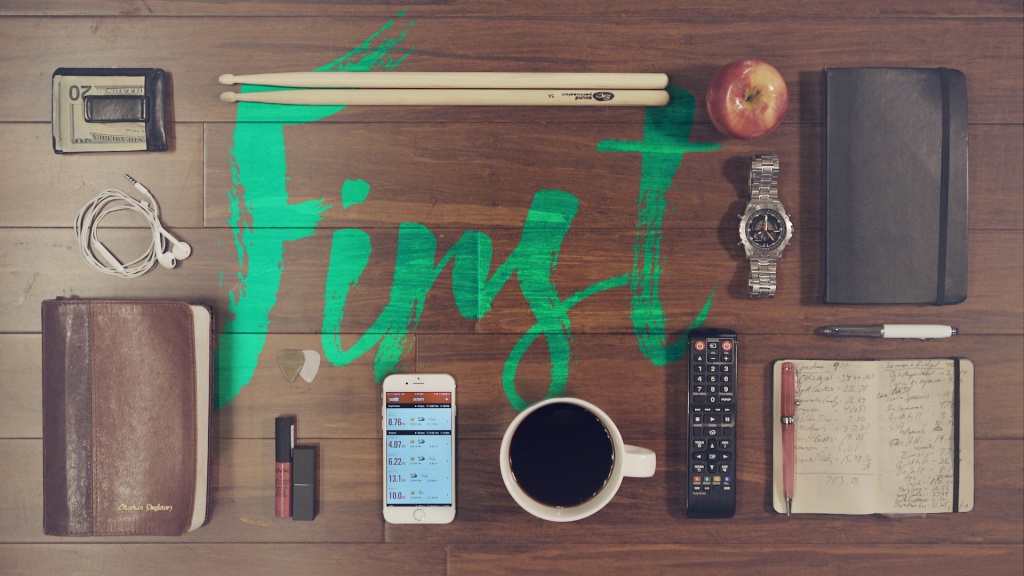 First Temple
by Dennis Rouse
Romans 12:1-2 NKJI beseech you therefore, brethren, by the mercies of God, that youpresent your bodies a living sacrifice, holy, acceptable to God, whichis your reasonable service. And do not be conformed to this world,but be transformed by the renewing of your mind, that you may provewhat is that good and acceptable and perfect will
Sermon Notes
Romans 12:1-2 NKJ
I beseech you therefore, brethren, by the mercies of God, that you
present your bodies a living sacrifice, holy, acceptable to God, which
is your reasonable service. And do not be conformed to this world,
but be transformed by the renewing of your mind, that you may prove
what is that good and acceptable and perfect will of God.
Romans 7:15-25 NKJ
For what I am doing, I do not understand. For what I will to do, that I
do not practice; but what I hate, that I do. If, then, I do what I will not
to do, I agree with the law that it is good. But now, it is no longer I
who do it, but sin that dwells in me. For I know that in me (that is, in
my flesh) nothing good dwells; for to will is present with me, but how
to perform what is good I do not find. For the good that I will to do, I
do not do; but the evil I will not to do, that I practice. Now if I do what I
will not to do, it is no longer I who do it, but sin that dwells in me. I find
then a law, that evil is present with me, the one who wills to do good.
For I delight in the law of God according to the inward man. But I see
another law in my members, warring against the law of my mind, and
bringing me into captivity to the law of sin which is in my members. O
wretched man that I am! Who will deliver me from this body of death?
I thank God—through Jesus Christ our Lord! So then, with the mind I
myself serve the law of God, but with the flesh the law of sin.
Matthew 6:33 NKJ
"But seek first the kingdom of God and His righteousness, and all
these things shall be added to you."
Two Sides of Righteousness:
Right Standing: the ability to live in God's presence without a sense
of condemnation, inferiority or rejection; the state of mind that allows
free access of God's grace into your life
Right Living: the ability to live a life of pursuing holiness with God
Principles of First Temple:
Understand the gift of righteousness.
Romans 3:21-26 NLT
But now God has shown us a way to be made right with him without
keeping the requirements of the law, as was promised in the writings
of Moses and the prophets long ago. We are made right with God by
placing our faith in Jesus Christ. And this is true for everyone who
believes, no matter who we are. For everyone has sinned; we all fall
short of God's glorious standard. Yet God freely and graciously
declares that we are righteous. He did this through Christ Jesus when
he freed us from the penalty for our sins. For God presented Jesus as
the sacrifice for sin. People are made right with God when they
believe that Jesus sacrificed his life, shedding his blood. This
sacrifice shows that God was being fair when he held back and did
not punish those who sinned in times past, for he was looking ahead
and including them in what he would do in this present time. God did
this to demonstrate his righteousness, for he himself is fair and just,
and he declares sinners to be right in his sight when they believe in
Jesus.
Romans 4:4-5 NLT
When people work, their wages are not a gift, but something they
have earned. But people are counted as righteous, not because of
their work, but because of their faith in God who forgives sinners.
Romans 5:1-2 NLT
Therefore, since we have been made right in God's sight by faith, we
have peace with God because of what Jesus Christ our Lord has
done for us. Because of our faith, Christ has brought us into this
place of undeserved privilege where we now stand, and we
confidently and joyfully look forward to sharing God's glory.
Romans 5:17 NLT
For the sin of this one man, Adam, caused death to rule over many.
But even greater is God's wonderful grace and his gift of
righteousness, for all who receive it will live in triumph over sin and
death through this one man, Jesus Christ.
2 Corinthians 5:21 NKJ
For He made Him who knew no sin to be sin for us, that we might
become the righteousness of God in Him.
Hebrews 10:14 NIV
For by one sacrifice he has made perfect forever those who are being
made holy.
Believe truth instead of lies.
Stronghold: mindset impregnated with hopelessness which causes
us to accept as unchangeable situations that we know are contrary to
the will of God
John 8:31-32 NIV
To the Jews who had believed him, Jesus said, "If you hold to my
teaching, you are really my disciples. Then you will know the truth,
and the truth will set you free."
Understand the process of dying to self.
Romans 6:1-11 NLT
Well then, should we keep on sinning so that God can show us more
and more of his wonderful grace? Of course not! Since we have died
to sin, how can we continue to live in it? Or have you forgotten that
when we were joined with Christ Jesus in baptism, we joined him in
his death? For we died and were buried with Christ by baptism. And
just as Christ was raised from the dead by the glorious power of the
Father, now we also may live new lives. Since we have been united
with him in his death, we will also be raised to life as he was. We
know that our old sinful selves were crucified with Christ so that sin
might lose its power in our lives. We are no longer slaves to sin. For
when we died with Christ we were set free from the power of sin. And
since we died with Christ, we know we will also live with him. We are
sure of this because Christ was raised from the dead, and he will
never die again. Death no longer has any power over him. When he
died, he died once to break the power of sin. But now that he lives, he
lives for the glory of God. So you also should consider yourselves to
be dead to the power of sin and alive to God through Christ Jesus.
Matthew 16:24-25 NIV
Then Jesus said to his disciples, "Whoever wants to be my disciple
must deny themselves and take up their cross and follow me. For
whoever wants to save their life will lose it, but whoever loses their
life for me will find it."
Philippians 3:9-10 NIV
…and be found in him, not having a righteousness of my own that
comes from the law, but that which is through faith in Christ—the
righteousness that comes from God on the basis of faith. I want to
know Christ—yes, to know the power of his resurrection and
participation in his sufferings, becoming like him in his death…
Galatians 6:7-8 NIV
Do not be deceived: God cannot be mocked. A man reaps what he
sows. Whoever sows to please their flesh, from the flesh will reap
destruction; whoever sows to please the Spirit, from the Spirit will
reap eternal life.
Learn to yield to God's grace.
Romans 6:12-14 NLT
Do not let sin control the way you live; do not give in to sinful desires.
Do not let any part of your body become an instrument of evil to serve
sin. Instead, give yourselves completely to God, for you were dead,
but now you have new life. So use your whole body as an instrument
to do what is right for the glory of God. Sin is no longer your master,
for you no longer live under the requirements of the law. Instead, you
live under the freedom of God's grace.
Grace: God doing for us what we cannot do for ourselves; God's
power released into our lives to help us overcome sin and live in
victory
Romans 5:17 NLT
For the sin of this one man, Adam, caused death to rule over many.
But even greater is God's wonderful grace and his gift of
righteousness, for all who receive it will live in triumph over sin and
death through this one man, Jesus Christ.
Romans 5:20-21 NKJ
Moreover the law entered that the offense might abound. But where
sin abounded, grace abounded much more, so that as sin reigned in
death, even so grace might reign through righteousness to eternal life
through Jesus Christ our Lord.
2 Corinthians 12:9 NIV
But he said to me, "My grace is sufficient for you, for my power is
made perfect in weakness." Therefore I will boast all the more gladly
about my weaknesses, so that Christ's power may rest on me.
2 Corinthians 12:10 NIV
That is why, for Christ's sake, I delight in weaknesses, in insults, in
hardships, in persecutions, in difficulties. For when I am weak, then I
am strong.