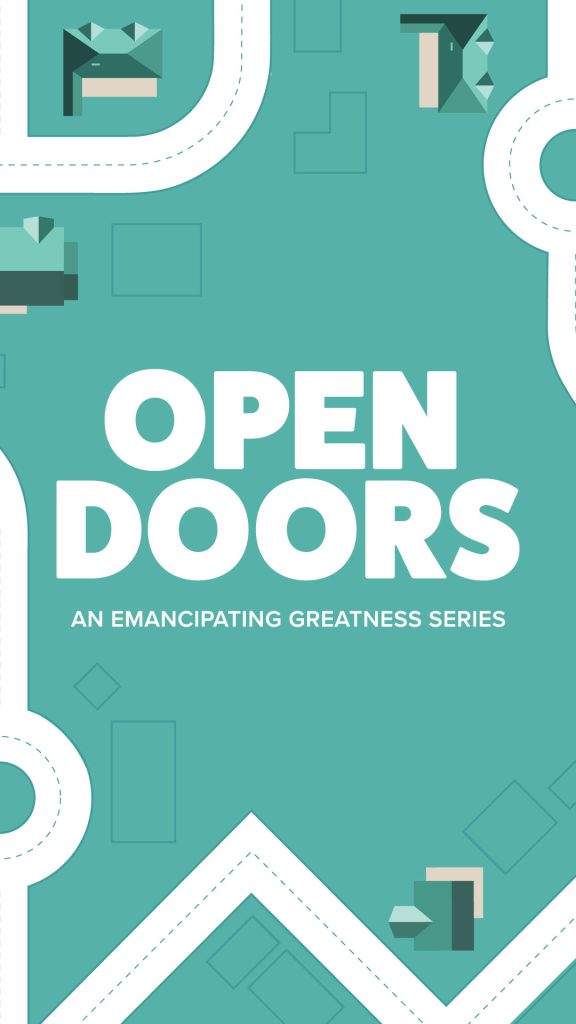 Engaging Culture
by Johnson Bowie
It's not always easy to build relationships with people whose lifestyles aren't like ours. How do we love our neighbors when all we see are differences? Jesus engaged the culture of His day with love, grace and the truth of the gospel. He invites us to do the same—to live in a way that glorifies God and open our lives to connect with others so we may inspire them to want to know Jesus for themselves. We're breaking down what that looks like in part four of our Open Doors series!
Sermon Notes
Mark 12:28-31 NIV
"Of all the commandments, which is the most important?""The most important one," answered Jesus, "is this: 'Hear, O Israel: The Lord our God, the Lord is one. Love the Lord your God with all your heart and with all your soul and with all your mind and with all your strength.' The second is this: 'Love your neighbor as yourself.' There is no commandment greater than these."
John 13:34-35 NIV
"A new command I give you: Love one another. As I have loved you, so you must love one another. By this everyone will know that you are my disciples, if you love one another."
(list one at a time)
5 Observations of Christians on Social Media:
1) We don't know how to engage with the Old Testament Law
2) We don't know how to rightly handle the Word of Truth
3) We ask too few questions and make too many judgements
4) Too many Christians have nothing better to do than to police social media
5) The 5% make it hard for the rest of us
"I believe the mission of the Church is to be a bridge between the culture and the King." – Chip Judd
We are transitioning from a MODERN society to a POST-MODERN society.
Moderns (1600 – 1980's)
Truth, Belief, Living
This is true.
If it's true, then you must believe it.
If you believe it, now you must live it.
(would be great to add this below the "Moderns" slide, if possible)
Post-Moderns (1980's – Present)
Living, Belief, Truth
The Christian life is livable.
If it's livable then it's also believable.
If it's believable then it's also true.
Modern & Postmodern
Engaging a Modern Culture Begins with TRUTH
[SHOW VIDEO of Acts 17 – Johnson at Mars Hill]
A Model for How to Engage Moderns
Resonate – Enter their story and empathize with their belief
Dismantle – Challenge and deconstruct the belief
Gospel – Fulfill their heart's cry with the Gospel
Acts 17:22-23 NIV
"People of Athens! I see that in every way you are very religious. For as I walked around and looked carefully at your objects of worship, I even found an altar with this inscription: to an unknown god."
The culture is seeking VALID things in INVALID ways.
Modern & Postmodern
Engaging a Postmodern Culture Begins with LIFE
Matthew 5:14-16 NIV
"You are the light of the world. A town built on a hill cannot be hidden. Neither do people light a lamp and put it under a bowl. Instead they put it on its stand, and it gives light to everyone in the house.In the same way, let your light shine before others, that they may see your good deeds and glorify your Father in heaven."
"We do not draw people to Christ by loudly discrediting what they believe, by telling them how wrong they are and how right we are, but by showing them a light that is so lovely that they want with all their hearts to know the source of it." – Madeleine L'Engle
2 Corinthians 5:18-20 NIV
All this is from God, who reconciled us to himself through Christ and gave us the ministry of reconciliation:that God was reconciling the world to himself in Christ, not counting people's sins against them. And he has committed to us the message of reconciliation.We are therefore Christ's ambassadors, as though God were making his appeal through us. We implore you on Christ's behalf: Be reconciled to God.